William Crozier

William Crozier (1930-2011) was born in Glasgow to Irish parents and educated at the Glasgow School of Art between 1949 and 1953. On graduating he spent time in Paris and Dublin before settling in London, where he gained a reputation as the 1950s equivalent of a Young British Artist through the early success and notoriety of his exhibitions of assemblages and paintings at the ICA, Drian and the Arthur Tooth galleries, with whom he had a long association.
Based in London throughout the 1960s and 1970s, Crozier exhibited his works in London, Glasgow, Dublin and all over Europe. As many artists of the 1960s did, Crozier combined painting with teaching, first at Bath Academy of Art, then at the Central School of Art and Design at the Studio School in New York and finally at Winchester School of Art. From the 1980s, Crozier's painting blossomed with a new freedom and confidence, the result of his giving up teaching and the stimulus provided by his studios in West Cork in Ireland, and in Hampshire in England. His abstract landscapes and still life painting used sumptuous colour to convey an emotional intensity.
William Crozier represented the UK and Ireland overseas, and was awarded the Premio Lissone in Milan in 1958 and the Oireachtas Gold medal for Painting in Dublin in 1994. In 1991 the Crawford Art Gallery Cork and the Royal Hibernian Academy curated a retrospective of his work. He was elected to Aosdana in 1992 and was elected an honorary member of the Royal Hibernian Academy.
Examples of his work can be seen in most major public and private collections in the British Isles. He is also represented in museums in Europe and the USA.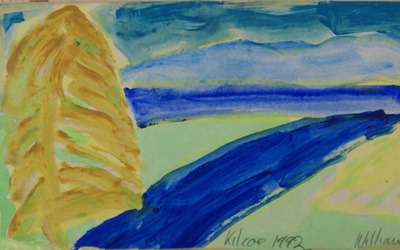 William Crozier HRHA - Kilcoe 1992acrylic on card - 10.3 x 21 cmUnframed - Price : £1,500 Signed 'William Katherine' (gifted from the artist and his wife)
read more