Sir Eduardo Paolozzi CBE RA

Sir Eduardo Paolozzi (1924-2005) was one of the UK's most significant artists/sculptors of the C20and is widely considered to be one of the pioneers of pop art. Born in Leith, in north Edinburgh, he studied at the Edinburgh College of Art in 1943, briefly at Saint Martin's School of Art in 1944, and then at the Slade School of Fine Art at University College London from 1944 to 1947, after which he worked in Paris. While in Paris from 1947 to 1949, Paolozzi became acquainted with Alberto Giacometti, Jean Arp, Constantin Brancusi, Georges Braque and Fernand Léger. This period became an important influence for his later work. For example, the influence of Giacometti and many of the original Surrealists he met in Paris can be felt in the group of lost-wax sculptures made by Paolozzi in the mid-1950s. Their surfaces, studded with found objects and machine parts, were to gain him recognition.
Paolozzi's graphic work of the 1960s was highly innovative. In a series of works he explored and extended the possibilities and limits of the silkscreen medium. The resulting prints are characterised by Pop culture references and technological imagery. These series are: As Is When (12 prints on the theme of Paolozzi's interest in the philosopher Ludwig Wittgenstein; published as a limited edition of 65 by Editions Alecto, 1965); Moonstrips Empire News (100 prints, eight signed, in an acrylic box; published as a limited edition of 500 by Editions Alecto, 1967); Universal Electronic Vacuu (10 prints, poster and text; published by Paolozzi as a limited edition of 75, 1967); General Dynamic Fun. (part 2 of Moonstrips Empire News; 50 sheets plus title sheet; boxed in five versions; published as a limited edition of 350 by Editions Alecto, 1970).
This group of prints is from General Dynamic Fun.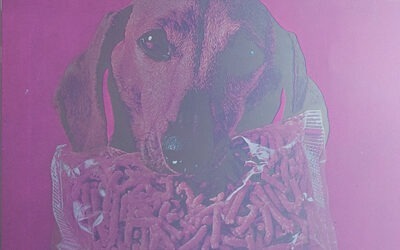 Sir Eduardo Paolozzi - Almost any suburb : General Dynamic FUN #702  1970photolitho on paper, #31 from edition of 350 -  38 x 25.5 cmUnframed - Price : £175
read more