Sebastien Leclerc, or  Le Clerc, was born in 1637 in Metz; the son of Laurent Leclerc (1590–1695), a local goldsmith and merchant, who taught his son the rudiments of his trade. His first artistic efforts were favourably received in Metz, where he engraved a city view in 1650. Le Clerc went to Paris in 1665, where he was counselled by the King's painter, Charles Le Brun, to devote himself entirely to engraving. As the protégé of such a major artist, Leclerc had no trouble gaining commissions. Booksellers were eager to have his engravings decorate their books. His reputation rose quickly.
Leclerc joined the Académie Royale de Peinture et de Sculpture in 1672 and taught perspective there. He worked for Louis XIV, being made "graveur du Roi" (attached to the Cabinet du Roi), doing engraving work for the royal house. Leclerc was appointed engraver to Louis XIV. He was granted the honorific cavaliere Romano by the Pope in 1706.
In 1710 Leclerc feared losing his sight and was for a while forced to give up his work, though he returned to it, if only for a few years. He died in Paris in 1714 while still putting the finishing touches to his Traité d'Architecture.
 For his talent with composition, Leclerc is accounted among the best French artists of the 17th century. The catalogue of his oeuvre, edited by Th.-Ant. Joubert, contains 3412 pieces—nearly all his own designs. He is considered a printmaker with the highest skills and one of the most able French etcher/engravers, alongside Jacques Callot and Abraham Bosse.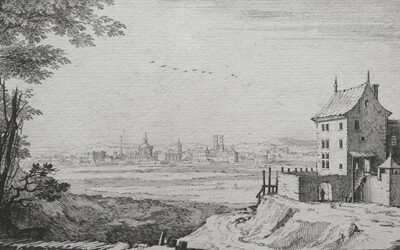 Sebastien Leclerc or Le Clerc (1637-1714) - Landscape with Large House  1693etching - trimmed to platemark. Paper size 10.1 x 18.5 cmUnframed - Price : £80Signed 'S Le Clerc f' in below image in right corner of sheet.  Reference: Jombert 107.4 Condition: Nice...
read more