The Sadeler family were one the largest and most successful of the dynasties of Flemish engravers that were dominant in Northern European printmaking in the late 16
th
and 17
th
centuries. They were one of the first of such dynasties to operate as an international firm with members serving different centres. They worked as a team and published most of their plates themselves, thereby enabling the provision of prints of uniform impressions to buyers. They also had the benefit of drawing upon a common stock of plates from which to operate their business.
Although they published across a wide field of subject matter, it is in landscape that they particularly excelled, etching and engraving plates to the designs of some of the foremost landscape artists of the time, including Pieter Brueghel the Elder (1525-1569), Jan Brueghel the Elder (1568-1625), Hans Bol (1534-1593), Paul Bril (1554-1626), Maarten de Vos (1532-1603).
The Sadelers were descended from 'chasers', engravers of armour from Aalst. Jan de Saeyelleer or Sadeleer had three sons, all usually called 'Sadeler'. The eldest was Johann or Jan, born in 1550 in Brussels; his brother Aegidius c1550; and Rafael 1560/61. Jan was working in Antwerp by 1572 when it was at that time the predominant centre of the northern printmaking world, with hugely productive workshops producing work for publishers with excellent distribution arrangements throughout Europe. He was employed by one of the most noted houses, that of the publisher Christopher Plantin, a French born printer who had moved from Paris to Antwerp in 1548. Rafael joined Jan there. However, in November 1576, the Spaniards plundered and burned Antwerp during the Eighty Years War – essentially ending its supremacy as the commercial centre and richest city of Europe. Many Antwerp artists fled, some northwards to the Dutch States, others to France and Germany. Jan and Rafael went to Cologne in around 1579 but continued to visit Antwerp. Further disruptions in Antwerp in 1585 saw the two brothers move to Mainz, Frankfurt-am-main Munich, not settling for long in any one place, before arriving in Italy in 1593. On the journey to Italy they were accompanied by their nephew, Aegidius II, first to Verona and then to Venice in 1596-7 where they set up a shop. It is thought that Jan died in Venice in 1600. Rafael returned to Munich in 1604 where he died in 1628/32. Jan's son Marcus, also known as Marco (born in Munich sometime around 1590), remained in Venice as a publisher and artist.
Despite where they operated from, Jan and Rafael worked consistently on plates based on landscape drawings by Northern artists; Jan with Hans Bol, Maarten de Vos, Jan Bueghel the Elder; Rafael on Paul Bril and Lodewijk Toeput (c1550-1605). Bol and de Vos reflect the manner of Northern art where Bril and Toeput were much inspired by Italian artists in Venice and Rome. Both Bol and Bril came to be the most influential artists in the progression of landscape art in the period 1570 and 1620, the spread of this influence aided considerably by the distribution of prints.
Aegidius Sadeler I was more a publisher and dealer than engraver like his brothers. He spent time in Venice also though it is known he died in Frankfurt-am-main in around 1609. Least known about of the three brothers. Most significantly though is that he was the father of Aegidius II, the greatest engraver of the Sadeler family (also known as Gilles). Born around 1570 in Antwerp he was trained by his family, before moving to Cologne and Munich with his father and uncles. He was in Rome in 1593 and back in Munich in 1594.  Before returning to Italy with Jan and Rafael in 1596/7. After a trip to Naples (apparently alone) he moved to Prague in 1597 to be employed by the Emperor Rudolph II who became his greatest patron. Technically his engraving is of the highest quality, well in advance of many of his contemporaries. He is often described as a leading Northern Mannerist engraver, particularly in discussions of his religious prints after Northern painters, and portraits. However, as an engraver of landscapes he rises above this nomenclature, in my mind mainly due to the extraordinary progression of landscape as an accepted art subject. When in Prague he worked on landscapes drawn by Roelant Savery (1584-1627/32) and Pieter Stevens (1567-1624) who were also employed by the Emperor.
Jan and Rafael often self-published their prints as well as engraving the plates. Marcus, or Marco, was solely a publisher, publishing many of Aegidius II's prints from Prague including those taken from the designs by Savery and Stevens. He was also responsible for issuing the series 'Vestigi delle Antichita di Roma Tivoli Pozzuola et altri luoghi' (1606) based on the set of the same title engraved by Etienne Duperac in 1575 but with additions from artists including Pieter Brueghel the Elder and Jan Brueghel (others are unidentified). Marco kept the business in Venice until his death in after 1650.
The six illustrations here are fine representative examples of the Sadeler production. All prints – collection Geoffrey Bertram.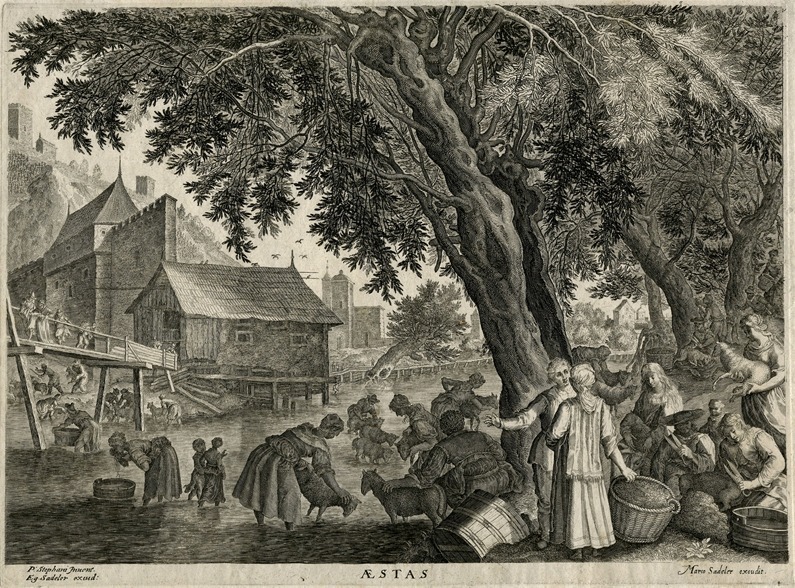 Jan Sadeler I 'Landscape with Hunter and Birds (after Hans Bol)c1599 - etching - 219 x 267 mm
read more