Ray Mead
Ray Mead (1921–1998) was an Anglo/ Canadian abstract expressionist painter and a founding member of the Canadian artists group known as Painters Eleven. Born in Watford, Mead studied under John Nash and Randolph Schwab at the Slade School of Art in London, graduating in 1939. During World War II, he moved to New York where he trained American pilots in combat flying. Sometime around 1943, he went to New York and first saw American abstraction in the work of Stuart Davis. In 1946 he moved to Hamilton, Ontario, where he befriended Hortense Gordon, who with him became a member of Painters Eleven.
Mead joined Painters Eleven when the group was formed in 1953. In Canada's conservative art world their early exhibitions were met with disdain. Nevertheless, Painters Eleven attracted U.S. exposure with a successful exhibition in 1956, Twentieth Annual Exhibition of American Abstract Artists with 'Painters Eleven' of Canada, with the American Abstract Artists at the Riverside Museum in New York City, and were praised by the influential critic Clement Greenberg on a visit he paid to Toronto in 1957. In the Canadian press, the group's most ardent supporter was art critic Robert Fulford. The group formally disbanded in 1960.
In Toronto, he worked for Maclaren Advertising as art director. In 1958, Mead moved to Montreal to work at the Maclaren`s branch there, and became associated, through the dealer of his Montreal gallery, Denyse Delrue, with Quebec abstract artists such as Guido Molinari and Claude Tousignant who also showed their work with her. These artists had an influence on him, as did Robert Motherwell. Having returned to Toronto in 1967, he worked continuously until his death in 1998 in Toronto. His principal gallery in Toronto during the 1980s was Theo Waddington Galleries (later Waddington & Shiell Gallery) before his move to Christopher Cutts Gallery who still represent his estate.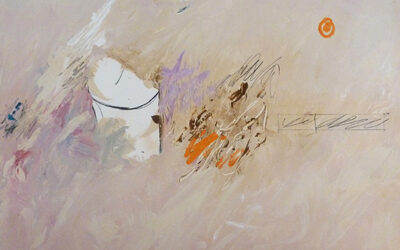 Ray Mead - Untitled 1988acrylic on paper - 81.5 x 101 cmUnframed - Price : £1,250
read more