When I first encountered the sculpture of Peter Hibbard it was like recognising a friend one had not seen in a while. Peter is an artist working in the tradition of modern British sculpture, continuing to explore a vein of ideas and inspiration that originated with Henry Moore, whose legacy is still strongly felt by many sculptors working today.
The majority of Peter's sculptures explore the human figure. Often working in alabaster there is an undulating aspect to the softly abstracted curving forms. One feels the need to touch and caress the stone. The opacity of the alabaster provides an inner glow when set against strong light, while light reflects off the sinuous plans and edges, emphasizing the organic elements in the designs. Other sculptures reference different natural forms – bits of bone, pebble, or seed – which are treated in similar fashion and are equally tactile. Each work is then set onto a stone fragment base whose shape compliments the carving.
Each sculpture can be seen 360 degrees in the round, in a video accessible on clicking the image.
BACKGROUND
Peter was born in 1945 in Sheffield. He studied sculpture at Loughborough and in London. In 1968 he was awarded a post graduate research scholarship at Zagreb in Yugoslavia and in 1972 was awarded a coveted Winston Churchill Travelling Fellowship (for sculpture and carving) which provided the opportunity for three months' personal research in Japan. In 2009 Peter was awarded an Honorary Degree from Loughborough University.
Mainly working on the enlargement of sculptures, he was an assistant to Henry Moore for 2 years in the late '60s, collaborating on the development of a group of his most highly regarded pieces and also in rebuilding some of the original plaster sculptures which are now on view at the Moore Centre, Art Gallery of Ontario in Toronto. Peter has also been actively involved in the development of several regional arts centres and has taught and lectured at a wide range of art colleges, universities, and other educational establishments.
Peter's sculpture and drawings have been exhibited widely since 1965 and he has had many one-man shows. His work is represented in collections throughout Europe and America. Peter was the founder chairman of the Yorkshire Sculptors' Group in 1985 and was responsible for organising and designing several of the Group's highly respected early exhibitions. He has also successfully completed a number of "artist in residence" commissions including carving large stone projects for the Millennium year 2000.
Before establishing, in 2005, his home and studio at Laroque-Timbaut in southwest France, Peter lived and worked at an independent art centre in North Yorkshire, England, from where an annual programme of short courses for sculpture attracted people from all over the world and clients also came to select and commission work directly from him.​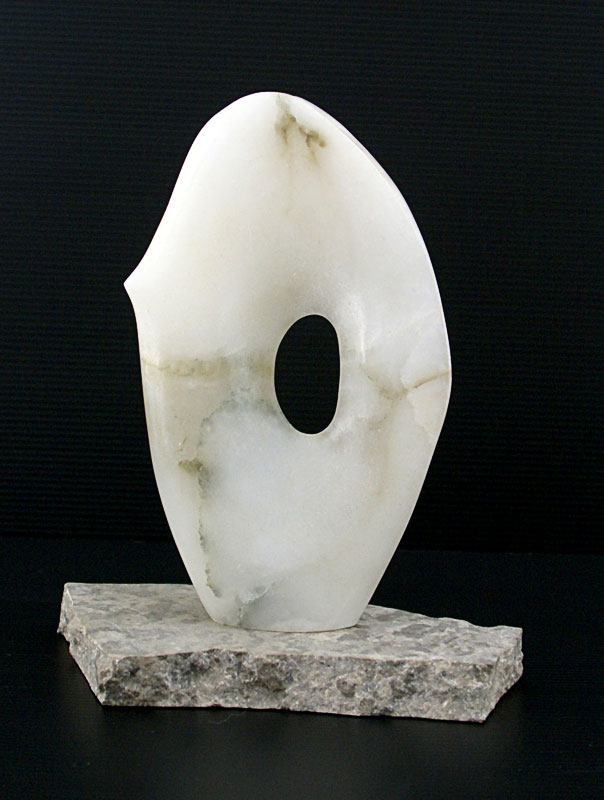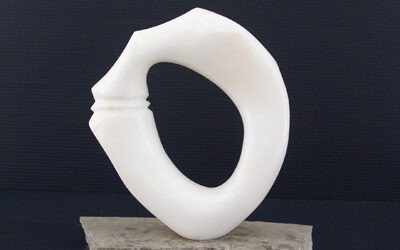 Peter Hibbard - The Linkalabaster on stone base - 17.5 x 17 x 8 cm (incl. base)Price : £550
read more