I have been working with Pennie Elfick since establishing my business in 2005. This Focus Feature is a small overview of her painting from the past decade.
CAPTURING PLACES
Elfick's minimalist paintings do not have any obvious frame of reference. They are as cool and calm as they are sophisticated, pared down and restrained. Previous statements about her work refer to the influence of local light and landscape in her art, citing notations and keys that allude to, rather than specifically describe the world around her. Certain forms can be seen within a landscape idiom – rows of parallel lines for example, suggesting markers or planes in a landscape – but they should not be taken literally. Elfick consciously attempts to relay her emotional responses to her experiences of, say, the Somerset levels where she lived until recently, structured in a reduced, minimalist fashion. This is well illustrated in Silent Conversation and in Interactive Conversation.
TRANSITION
Elfick's imagery progressed to become increasingly more complex with stronger linear forms and structures. The Transition series shows a different interplay between components. Between Spaces contains a greater dynamic created by diagonals crossing over and under horizontal parallel lines. Although the use of diagonals is not a new idea (note the small Linear Conversation) the lack of planes of colour and the use of tightly formatted lines give these paintings an edge.
SURFACES
From afar areas of colour can look flat – it is only up close that one can see the careful modulation of layering that gives the painted surface its dynamic. Recently Elfick has been working on wood boards rather than on linen. The subtle build-up of layers of colour, when dry, are sanded back giving the paintings their inner luminosity. The final surface is not a hard, flat colour but the culmination of a multi layering of pigment that shifts in changing lights.
BACKGROUND
Pennie Elfick studied Fine Art at London's Guildhall University before completing her MA in painting at Wimbledon School of Art. Since moving to Somerset in 2002 she has had her work exhibited widely around the region as well as continuing to exhibit in London. Last year (2019) she was awarded a bursary supported by Somerset Art Works Artist Development Programme which helped her to acquire new skills to develop her work in 3D. Her outdoor and wall-hanging sculptures were exhibited during Somerset Art Weeks to much acclaim.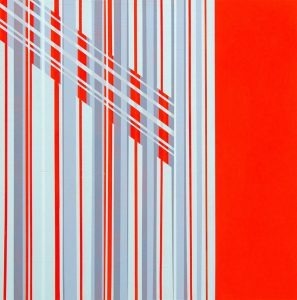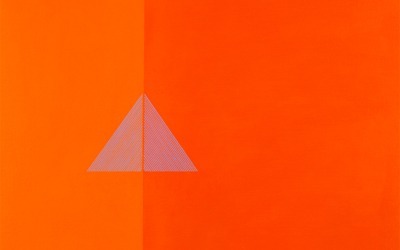 Pennie Elfick - Interactive Conversation - Orangeoil on linen- 91.5 x 91.5 cmPrice : £1,600
read more