Nicolaes Berchem (1621/22-1683) was born in Haarlem. He was pupil of his father Pieter Claesz and of Jan van Goyen; of Claes Moeyart 1634 in Amsterdam (1634); and of Pieter de Grebber in Haarlem (1637-1639). In 1642 he became a member of St Luke Guild. In 1660 Berchem moved to Amsterdam. He is particularly famous for pastoral scenes and Italianised landscapes following a possible period in Rome between 1647 and 1652.
Also known as Nicolaes Pietersz Berchem; Nicolaes Berchen; Niclas Berghem; Claes Berighem; Nicolaes Pietersz Berrighem; Nicolaes Berghem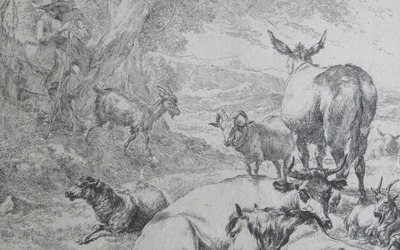 Nicolaes Berchem (1620-1683) - Resting Herd  c1652etching - trimmed to platemark 26.6 x 21.2 cm Unframed - Price : £200'Berghem fe' top right  '3' bottom left corner Reference: Hollstein 10   Bartsch v.260.10    Weigel 1843-297-10   Dutuit 1881-5.1.36.10...
read more