Kenneth Lauder
Kenneth Lauder (1916-2004) was born in Edinburgh. Between 1933-36 he trained at Chiswick School of Art and Chelsea School of Art where his tutor was Robert Medley. From 1936-39 he attended the Royal College of Art where his contemporaries included John Ward and Maurice de Sausmarez. For the early part of the war he farmed in Oxfordshire, but finally joined the R.A.F. in 1942. Straight after the war he took up a teaching post in the Isle of Man and as well as painting he began weaving rugs, using jute, parachute cord and blackout curtains which were later exhibited at the Manchester Art Gallery. His paintings during the 1940s and early 50s showed the influence of the modern Paris School, particularly Braque and one can see a link with early works of Patrick Heron. He began showing these semi-abstract still-lives, figurative and landscape subjects at the Redfern Gallery in 1950.
From 1958 his work became more abstract and he began a period of experimentation, exploring pointillism and developing different techniques for applying paint, a characteristic trait that underlines his entire subsequent career.
In 1963 he took up a teaching post at a teacher training college just outside Liverpool. In the following year he exhibited at the Reid Gallery in Cork Street, London. During the mid 1960s he became absorbed by the medium of watercolour and formed an understated naturalistic style which placed him firmly in the great tradition of British watercolour painting. The quality of these works were recognised by Evelyn Joll at Agnew's,London, and this began a long and successful association with Agnew's which lasted throughout the 1970s into the 80s.
A study visit to Australia in 1986 led to a new, distinct body of work, of prismatic landscapes executed in watercolour. This collection was exhibited  at the Scottish Gallery, London in 1990. In 1995 he had further one man shows at Galerie Christiane Cloots in Brussels before turning his attention back towards abstract painting in oils.
His work is represented in collections worldwide including museums in Britain and the USA.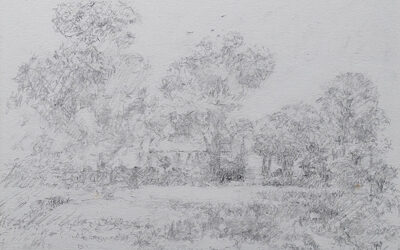 Kenneth Lauder - Rooks Nesting  1985pencil on card - 25.6 x 30.8 cmUnframed - Price : £280
read more