Jill Barker is a relief printmaker living and working in Somerset.
A wood Engraving is a print taken from an end grain block of hard wood, such as Box wood. The image is made by cutting fine lines beneath the surface of the block with sharp, steel hand tools known as burins. When the block is inked, these lines will not print and so appear as "white lines". The slow growth of Box provides a tight, hard surface enabling fine detail in the print.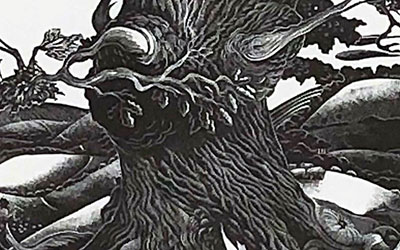 Jill Barker - Old Mama OakWood Engraving  42/50  - 17 x 16.5 cm / frame 39 x 39 cmPrice : £135 This limited edition print is being sold on behalf of Art For Life, Musgrove Park Hospital, Taunton "Old Mama Oak" represents a large natural "roundel" block of Box,...
read more