Janette Kerr PPRWA

Janette Kerr is a sea artist, dividing her time between Somerset and Shetland (where she was born). In her artist's statement she writes, 'My paintings represent immediate responses to sound and silences within the landscape around me; they are about movement and the rhythms of sea and wind, swelling and breaking waves, the merging of spray with air, advancing rain and mist, glancing sunlight – elements that seem to be about something intangible.'
​Called 'the best painter of the sea in these islands' by Brian Fallon, Chief Critic of the Irish Times, Kerr delights in foul weather. Drawn to the perimeters of land, her work is an index of edges and ledges, exposed headlands and wind-swept seas. She writes: 'My process of making paintings involves extremes and instabilities: peripheries and promontories – places of rapid change and shifts, both physically and meteorologically'.
 For the last 10 years, her work has focussed on Shetland and the far north. She travels extensively – always to wild sea and weather-scoured places. In Norway, she worked alongside Norwegian oceanographers at the meteorological Institute in Bergen studying the unpredictability of waves and wind, which had a profound influence on her work.
 Kerr has a PhD in Fine Art, she is an Hon Royal Scottish Academician, Past President of the Royal West of England Academy of Art, and a Visiting Research Fellow in Fine Art, UWE Bristol. Exhibiting regularly across the UK and abroad, her work is held in national and international collections.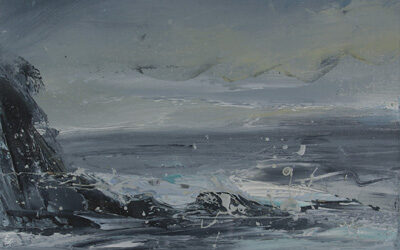 Janette Kerr PPRWA - Shetland Series 14oil on paper - 14 x 17.7 cmFramed - Price £235
read more