Jan van de Velde the younger (1593-c1641) was painter and engraver of animal, landscape and still-life subjects. He was the son of Jan van de Velde the Elder, the famous Antwerp calligrapher who had moved to the northern Netherlands in 1592 to escape religious persecution,  and the father of the renowned still life painter Jan Jansz van de Velde. He was the cousin of Esaias van de Velde. 
Velde was born in either Delft or Rotterdam. He was apprenticed to engraver Jacob Matham in 1613, and entered the Haarlem guild in 1614. He then probably visited Italy. In 1636 he settled in Enkhuizen, where he died in 1641.
Velde is better known for his etching and engraving than for his painting. He was one of the community of artists working in Haarlem during the second decade of the 1600s, who created the distinctive Dutch seventeenth-century landscape. He was among Haarlem's most prolific artists and had produced more than a hundred landscape etchings by 1617 (at the age of twenty-four). His landscapes prints were often based on drawings from nature and his emphasis on naturalistic detail and simple composition influenced other artists including Rembrandt Harmensz. van Rijn.
In addition to landscapes, Van de Velde created more than fifty portrait prints as well as genre scenes, book illustrations, and paintings. As his career progressed, he began to base his engraved output on the work of other artists including that of his cousin Esaias.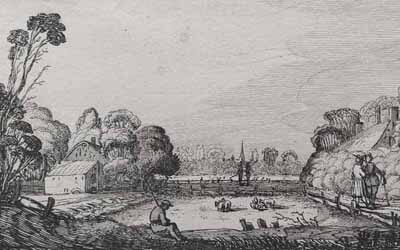 Anon - Field with Ewes  1610etching - trimmed close to image - size 10.9 x 22.1 cmUnframed - Price : £100This etching was attributed to Jan van de Velde for many years though it is now thought not to be by him and has been removed from his catalogue. It is...
read more