Jan Dirksz Both (c1610/1618-1652) was a Dutch painter, draughtsman, and etcher, who made an important contribution to the development of Dutch Italianate landscape painting. Born in Utrecht, he was the brother of Andries Both. According to Houbraken, the brothers first learned to paint from their father, who was a glass-painter or glazier there. Later Jan was a pupil of Abraham Bloemaert and still later the brothers traveled together to Rome via France. Gerrit van Honthorst has also been suggested as a teacher. By 1638 Jan and his brother Andries were in Rome where Jan painted  landscapes in the manner of Claude Lorrain.  In 1639 Jan collaborated with Herman van Swanevelt and Claude Lorrain on a project for the Buen Retiro Palace in Madrid.He left Rome in 1641, stopping off in Venice on his return.  Certainly by 1646 Jan had returned to Utrecht, where he refined further his expansive, imaginary landscapes drenched with a Mediterranean golden light.
Both is considered to be father of the second generation of Dutch Italianate painters and exercised a profound influence on the work of his contemporaries. He was a master in the depiction of light of the Roman Campagna in the manner of Claude though using his own designs. His landscapes were inspired by observation and sketches of the countryside around Rome and Tivoli, peopled with hersdmen or travellers. Like the Italianate landscapes of Cuyp, Both's works were prized by Dutch patricians, who preferred them to the native Dutch landscapes in the manner of Van Goyen. He occasionally produced religious or mythological scenes with figures by other painters.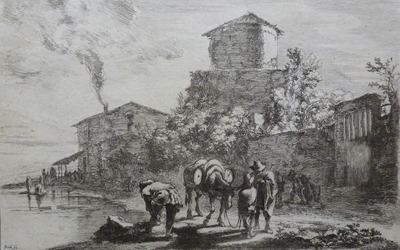 Jan Both (c1610/1618-1652) - The Drover on the Via Appia  1641-1652etching - trimmed to platemark 20.1 x 27 cmUnframed - Price : £400'Both fe' bottom left in image Reference:  Hollstein 6    Bartsch v.208.6 Condition: Overall good condition. Good impression...
read more