Frederick Bloemaert (c1614-1690) was born and died in Utrecht. He was the second son of Abraham Bloemaert. Little is known about his life. He was a student at Utrecht's Latin school in 1631 and 1632. He undoubtedly received artistic training from his father and probably also was schooled in engraving by Crispijn de Passe the Younger (c1597-c1670). He worked exclusively as an engraver, and almost all his prints were after his father's compositions. These include the engravings for his father's Konstryk tekenboek ('Artistic drawing book'), which was reprinted many times up to the 19th century. His prints are sometimes signed A. Bloem. inv. F. B. filius fecit, and sometimes F. B.
Bloemaert apparently discontinued his artistic endeavors in the 1670s. He had inherited substantial assets from his father and lived comfortably. He participated in public life, serving as a regent of Utrecht's Chamber of Charity from 1655 to 1657. After the city council disbanded the charity in 1674, Bloemaert was one of ten men who founded a Roman Catholic Chamber of Charity, and served as a regent of the new organization for two years. A life-long bachelor, he died with a considerable estate, valued at 10,000 guilders, and was buried in the family vault in Utrecht's Catharijnekerk.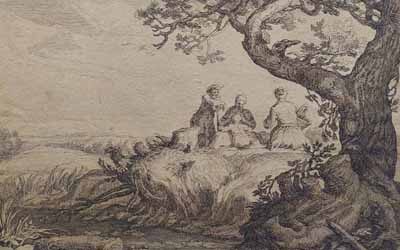 Frederick Bloemaert (c1614-1690) - Landscape with Tree and Figures  1647-1690etching - trimmed within platemark, but outside image - paper size 16.7 x 21.9 cmUnframed - Price : £70Etching by Frederick Bloemaert based on a design of his father Abraham Bloemaert...
read more