Franz Edmund Weirotter (1733-1771), painter, draughtsman and etcher, was born Innsbruck. He trained Vienna before moving to Paris in, 1759-63; to Rome and then to Vienna where, in 1767, he was appointed as professor of engraving at the Academy of Fine Arts. He died Vienna at the young age of 38.
Weirotter was one of the most distinguished of the German 18th century landscape etchers. He often made prints of other artists' designs.His original work is reminiscent of Jan van Goyen, Pieter Molyn, or Jacob van Ruisdael.  Weirotter was considered to be most successful when he keeps to plates of small dimensions, to which his delicate and clearly etched line is fitted. He was well renowned, his prints widely distributed; several of his prints were copied by John Clerk of Eldin (1728-1812), the Scottish etcher.  In his short lifetime he produced a considerable number of prints; the British Museum states it has a very complete collection of 369.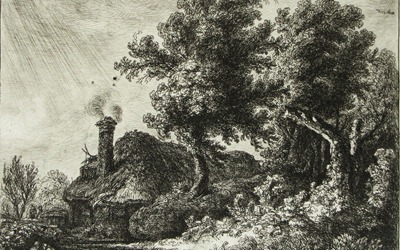 Franz Edmund Weirotter  (1733-1771) - Landscape with Thatched Cottage  c1780etching - platemark 14.8 x 16 cm / paper 18.9 x 19.6 cmUnframed - Price : £84'a' top left outside image - '12' top right outside image - F E WEIROTTER fecit ' bottom centre outside...
read more