David Alexander
David Alexander RCA (born 1947) is a Canadian painter, known for breathing new life into the landscape tradition of Canada as well as for working in a serious and ambitious manner to reinvigorate the contemporary practice of landscape painting.
He began painting seriously in 1966 in Steveston High School. He attended the Vancouver School of Art and Design (today's Emily Carr University of Art and Design), Langara College (1967-1970), and Vancouver Community College (1971-1972), then attended art school in Nelson, British Columbia, at the Kootenay School of the Arts (then affiliated with the now defunct Notre Dame University) for a BFA, graduating in 1978.
In 1979, he attended one of the Emma Lake Artists' Workshops with Friedel Dzubas and John Elderfield, and because of the positive experience he had in the workshop moved to Saskatoon, Saskatchewan in 1980. He continued to attend artists` workshops at Emma Lake. In 1985, he received an MFA from the University of Saskatchewan. In 2003, he and his family moved to the Okanagan Valley, BC, near Kelowna, BC where he has his home and studio.
Alexander draws inspiration for his work from the unique character of the land which he records in sketchbooks and sketches in preparation for more finished canvases. He has travelled extensively doing research for his work, including making several trips Scotland which is the subject of these two small paintings. This particular study trip arose from an exhibition commissioned for the Scottish Gallery, Edinburgh which took place in 1991.
His work has been exhibited in galleries across Canada and in the United States and Europe. His works are represented in collections such the Canada Council Art Bank (Ottawa), Canadian Embassies (Warsaw and Beijing), Concordia University (Montreal), Department of Foreign Affairs (Kuala Lumpur and Berlin), Edmonton Art Gallery, Institute of Art (Iceland), MacKenzie Art Gallery (Regina), Mendel Art Gallery (Saskatoon), Museum London, Ontario; Saskatchewan Arts Board, University of Toronto, and the Vancouver Art Gallery.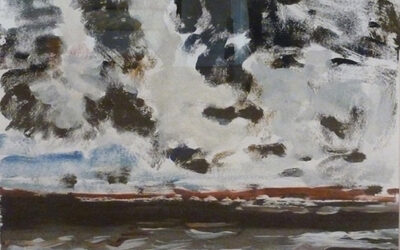 David Alexander - Prairie Stormmonotype on paper - 40.5 x 51 cmFramed - Price : £450
read more