Sir D.Y.CAMERON (David Young) is regarded as one of the great British etchers of landscape and architectural scenes and as a leading light in the British etching revival in the late 19th and early 20th centuries. Born in Glasgow in 1865 he trained at Glasgow School of Art before attending Edinburgh College of Art in 1885. In 1887, George Stevenson, a friend of Seymour Hayden (another well-renowned etcher) suggested that Cameron try his hand at etching. In 1889 Cameron was elected an associate of the Royal Society of Painter-Etchers where he exhibited regularly until 1902. He won numerous awards and accumulated honours, becoming Royal Academician in 1920. He was knighted in 1924 and was appointed King's Painter and Limner in Scotland in 1993. He died in Perth in 1945.
Rowallan's Towers (1893) is a relatively early print, on an architectural theme that is treated in a manner in the spirit of Sir Walter Scott. Cameron's prints of this period feature areas of great darkness offset by highlights.
 Although Cameron made views based on his trips abroad (including to France, Holland and Italy), it is his Scottish subjects that are most striking. He captures the true essence of the Scottish landscape, a feat first attempted in the etchings of John Clerk of Eldin. Cameron's prints have been much sought after by collectors and it is not hard to understand why.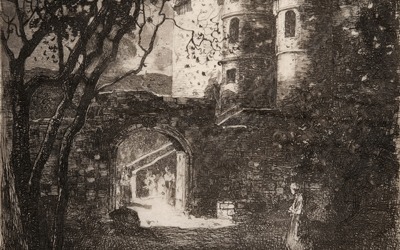 Sir D Y Cameron - Rowallan's Towers  1893etching on Japon paper - platemark 18.3 x 16.6 cm / paper 23.9 x 20.2 cmframed - Price : £560This is a Printer's Proof. Rowallan's Towers is extremely rare. Cameron's etching cataloguer Frank Rinder cites this etching as...
read more