De Passe was one of the best members of the school of Utrecht Mannerists. Both in time scale and in quality he comes very near to Hendrick Goltzius. His drawing style and engraving technique have few equals.
Venus and Adonis comes from his Ovid series published in 1602 (Hollstein 852). Titled Metamorphoseon Ovidianarum it draws partly on an unfinished cycle of Ovid designs by compatriot Hendrick Goltzius (1589, 1590, 1615).  De Passe was responsible for a 1602 series of Ovid engravings which take some of their Latin verse captions directly from Goltzius' own sequence. Goltzius' series is reproduced in The Illustrated Bartsch, 165 vols., New York, 1978- (Vol. III, 313-38, "After Goltzius" 31-82 [104]). At some point it appears Goltzius planned to draft twenty designs for each book of the Metamorphoses; along with the forty intended for Books I and II, he produced just eight further designs for Book III and four more for Book IV. The mannerist style is at its best here – the exaggerated torsion and fleshiness of the figures, the energy of the landscape.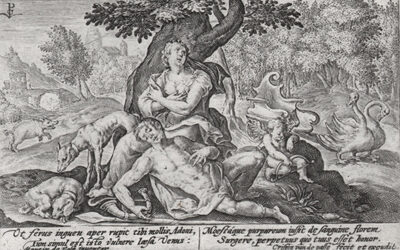 Crispijn de Passe (1565-1637) - Venus and Adonis  1602etching - plate 8.5 x 12.9 cm, paper 8.8 x 14.2 cmUnframed - Price : £80Print both etched and published by Crispijn de Passe. De Passe's monograpm in top left corner of image. Reference: Hollstein 852 and...
read more