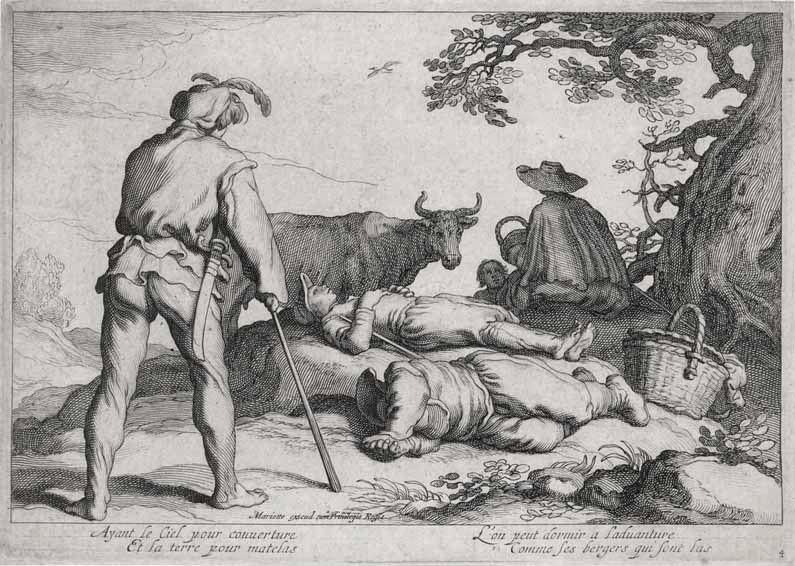 Cornelis Bloemaert (1603-1692) – Pastoral Scene No.4  c1650
etching – trimmed to platemark – size 14.9 x 20.8 cm
Unframed – Price : £130
Etching by Cornelis Bloemaert based on a design of his father Abraham Bloemaert (1566-1651).
No.4 of 4 from series 'Four Pastoral Scenes' with title 'Herdsmen'. '4' shown in bottom right of plate, below image.
Text below image: Ayant le Ciel pour couverture / Et la terre pour matelas / L'on peut dormir a laduanture / Comme les bergers quit sont las which translates roughly as 'With Heaven for a blanket / And earth for a mattress / One can endlessly sleep / As the shepherds who are left are weary'.
Published by Pierre Mariette, Paris.
Text in centre bottom of image 'Mariette excud cum Privelegio Regis'.
Reference: Hollstein 304,  Roethlisberger 406
Condition: Very fine impression on laid paper.  Signs of handling and one rust spot in top left corner. Some old bits of mounting tape on the reverse. Otherwise condition good, free from holes and signs of foxing.
For information on Cornelis Bloemaert click HERE