Cornelis Bloemaert II (1603-1692) was born in Utrecht. He studied with his father, Abraham Bloemaert, his brothers Hendrick and Adriaen, and his father's pupil, Gerard van Honthorst. Though originally trained as a painter, he devoted himself primarily to printmaking, which he learned from Crispijn van de Passe.  He went to Paris in 1630, where he made engravings from among others, before going to Rome in 1633 where he made prints of many Italian paintings.  He also made engravings after works by his father (e.g. six Pastorals, Hollstein, nos 212-15). He continued working despite horrific injuries to his hand in a fire.
He was so successful in Rome that he stayed until receiving word that his father wished to see him once more before he died. He delayed his return so long, that his father died, so he remained in there until his own death.He bequeathed his estate to his brother Frederick, withArnold van Westerhout acting as his executor.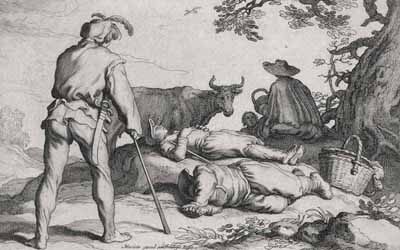 Cornelis Bloemaert (1603-1692) - Pastoral Scene No.4  c1650etching - trimmed to platemark - size 14.9 x 20.8 cmUnframed - Price : £130Etching by Cornelis Bloemaert based on a design of his father Abraham Bloemaert (1566-1651). No.4 of 4 from series 'Four...
read more