Bronwen Bradshaw

Bronwen Bradshaw took a BA Honours Degree in Modern Languages at the University of London from 1963 to 1966. In 1972 and 1974 she studied at the Salzburg Sommerkunstakademie where she won a prize for her work. From 1970 to 1975 she was a lecturer in English at the University of Munich and from 1992 to 2000 she became an Art Tutor for Somerset County Council specialising in printmaking and teaching to classes of exceptionally able children.
In reflecting upon her work Bronwen Bradshaw states:
'I am a mainly abstract artist who specialises in aluminium etching, video and artists books. My prints have a strong contemporary feel and grow from random and gestural marks into more considered images that draw inspiration from music and the natural world. Colour and a rhythmic line characterise my work. I also make artists books, using etchings and monoprints to create narrative. Teaching continues to take a central role, and for many years I have held regular etching and artists books classes at her studio, as well as one-off courses in the summer months. Recently I have added running a life drawing class to the studio schedules. My video work is closely connected to my print work. I use video to describe process and the physicality of materials. The videos are often about journeys both actual and in the mind, and about the nature of inspiration. I am a founder member of several Somerset based print groups: Somerset Printmakers, Fingerprint and Women in Print.'
She owns and runs the Dove Studios, Butleigh, Somerset.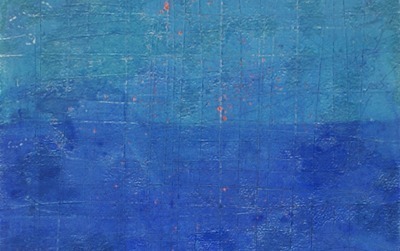 Bronwen Bradshaw - Remembering Blue IV - Indigo, Oriental Blue, Evedano and Vermillionetching, unique 1/1 - plate/image size 59.6 x 40.5 cmFramed - Price : £575
read more