Welcome to my new web site! Thanks for visiting.
It's been a long while since I have been active as Bertram Arts. Life took an unexpected turn a few years ago which led to putting Bertram Arts on hold. But that's not been a bad thing as I have continued to support artists throughout this time as well as making new discoveries. Consequently, I have plenty of new things to present.
I can't quite believe it but my last outing as Bertram Arts was at the Affordable Art Fair in the autumn of 2010. It has been a hugely interesting few years since then, and it is all to do with the Wilhelmina Barns-Graham Trust* which I have chaired since 2005.  I have been particularly closely involved in directing its future since 2011 when plans were under way to celebrate the artist's centenary in 2012. We managed 10 exhibitions in 15 venues throughout the UK! Following that, the decision was taken to sell the Trust's St Andrews centre (Balmungo House that the artist had inherited in 1960) and move to Edinburgh. The house sold remarkably quickly in July 2014 but the real challenge was to come, to find a suitable new home. This took three years to accomplish! Throughout this period, as the Trust had no full time employees, I managed the Trust's day to day affairs, a commitment that was all-consuming and left no time for Bertram Arts.
In July 2017 the Trust opened a new centre in Edinburgh and recruited staff. With everything now running as it should I am able once again to pursue my own interests and revitalise Bertram Arts. This new web site is the start. The new look web site focuses on three sections – the Gallery which can be explored by artwork or artist; a Focus Feature temporary exhibition area for small themed displays; and Articles which provides news and opinion. Content will be regularly updated.
* The Wilhelmina Barns-Graham Trust was established in 1987 by the St Andrews/St Ives artist Wilhelmina Barns-Graham (1912-2004). The Trust aims to promote and broaden the understanding and reputation of her work as one of Britain's most significant 20th century artists through exhibitions and publications. Additionally, the Trust actively supports individuals to fulfil their potential in the visual arts by providing financial support in education and funding artists' residencies.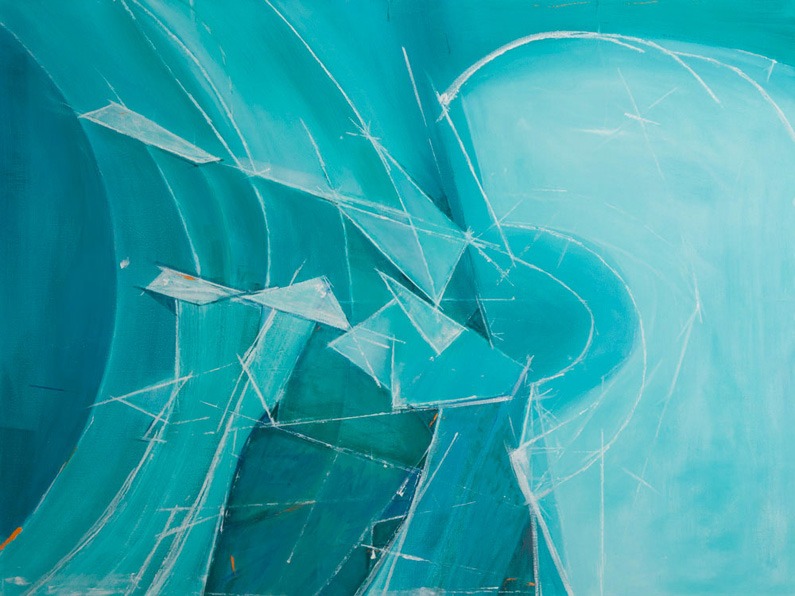 Wilhelmina Barns-Graham                         'Variation on a Theme: Splintered Ice No.2'  1987  oil on canvas  91.5 x 122 cm