Between 2008 and 2012 I held the role of curator with the Art For Life programme at Taunton's Musgrove Park Hospital. The team do a great job on improving the hospital experience through a wide-ranging arts activities including art exhibitions which are held in the main thoroughfare between two of the central buildings. I have kept in touch since stepping down and now I will be working on a new exhibition with them for the start of 2021. More about next year.
In the meantime I have offered to help them sell six unsold pictures that remain from a fund-raising event held earlier this  year. Please take time to take a look and please do buy as the proceeds are for a very good cause. In their own words:
'We don't need to  tell you just how important a role the arts play in an environment where people are often feeling very vulnerable and frightened and we know from the  feedback we get, as the words below show, just how important the work we do is to the people that use our hospital.
"And it is because Musgrove is a living place, full of colour, form and beauty  and being transferred back there was a genuine blessed relief. If anyone wants a testament to how art can affect the quality of someone's day in a health care setting, just send them to me!"
It's not just about the inside of our hospital site, the area that our buildings occupy and its potential to provide our patients, staff and visitors with solace is equally important. Here at Musgrove we have developed a Landscape Strategy for the site, a strategy  that is about putting the park back into Musgrove Park, enhancing our green spaces to offer inspiring views, places to relax, reflect, exercise, socialise or spend time away from the hustle and bustle of the busy hospital environment. We have started to deliver this strategy by creating the Red Garden area that, like projects we aspire to deliver in the future, creates a special place and moment for people to stop. We have incorporated an artwork into the area that provides that surprise encounter.
It is on this landscaping that we are focusing our fundraising targets on for this year.'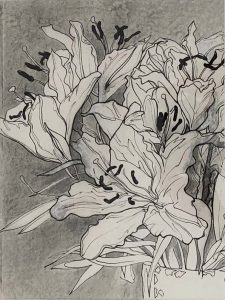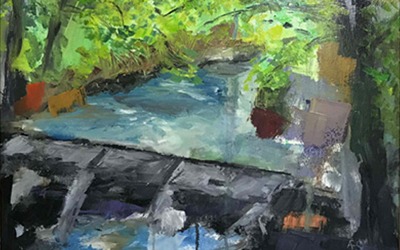 Sir Angus Stirling - Tarr Steps, River Barle, Exmoor, Early Springoil on canvas - 48 x 48 cm, frame 71 x 61 cmFramed Price : £1,900 This painting is being sold on behalf of Art For Life, Musgrove Park Hospital, Taunton
read more