Anthonie Waterloo (1609-1690) is thought to have been born at Ryssel, near Lille. Little is known of his early life and as no records of any formal training as an artist have been discovered, he may well have been self-taught. In 1640 he married in Amsterdam, and in 1653 he left the church and moved to Leeuwarden. He returned to Amsterdam before moving yet again, this time to Maarssen in 1655 where he lived until 1676.  He died in Utrecht.
Although registered as a painter, Waterloo had little success in selling his own canvases and, apparently, supported himself through his activities as an art dealer in addition to sales of his drawings and prints. His art dealership exposed him to the work of a number of respected contemporary landscape artists such as Jacob van Ruisdael, Simon de Vlieger, Roelant Roghman, and Cesar van Everdingen (elder brother to Allaert), from whom he absorbed a variety of influences.  Waterloo produced many etchings of landscapes (136) which increased his popularity.
Waterloo was among the first artists to have established a reputation almost entirely based upon his work as a draftsman. His oil paintings are relatively scarce, but his many drawings of forest scenes and other topographical views are more readily found. A special mention should be made regarding the quality of his trees, with their variety of foliage and patterning. Judging from the locales depicted in his drawings, he traveled widely with trips to Germany, Switzerland, France and Poland. It has been thought that he may have visited Italy but his particularly Northern approach to depicting landscape does not suggest Italian Influences even though these were widespread at the time.
While many of many of Waterloo's larger etchings and drawings are careful in their depiction of the smallest, individual detail, his smaller drawings of mountain valley views often feature an impressionistic group of forms as atmospheric perspective leads the eye into the hilly distance along a characteristically Baroque zig-zag course.  Such drawings may have been known to the English landscape etcher John Robert Cozens and, in turn, may have had a stylistic impact upon the young J.M.W. Turner.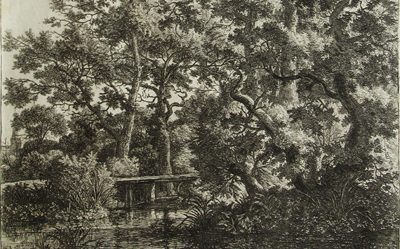 Antonie Waterloo (1610-1690) - Woodland Scene (Ovid)  1640-1690etching - platemark 29.1 x 23.5 cm / paper 29.5 x 23.9 cmUnframed - Price : £220From the series Six Large Upright Landscapes Reference: Hollstein H124 Condition: Nice impression with slight plate wear on...
read more