Amanda Wallwork
Amanda Wallwork paints history with images that reflect the marks and traces left behind by people, places and objects that are both deliberate and accidental. Her paintings are abstract interpretations that symbolise stories, places, journeys, rituals and time. They also form a mapping – of both the present forms seen openly in the landscape, and in the past of shapes buried within the ground, often only seen from above. They explore the archaeology of landscape in a form – oil and graphite on distressed plaster covered blocks – that itself has the appearance of a found object.
'Untitled' is a classic, high quality example of the period. Wallwork constantly rubs back the pigment, allowing the plaster to influence the surface, which provides the image with an inner glow. The surface  is covered with fine scratches and imperfections that deflect the light and animate the patina.
Amanda lives and works nearby to Dorset's Jurassic Coast,  a source of inspiration of her current work.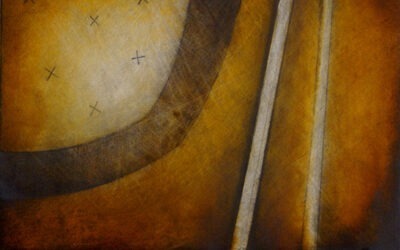 Amanda Wallwork - Untitledoil and graphite on gesso on wood panel - 15 x 21 cmFramed - Price : £250
read more