Allaert van Everdingen (1621 – 1675) was printmaker, painter/draughtsman, active in Haarlem, Norway and Amsterdam. He was born in Alkmaar, the son of a government clerk. He and his older brothers, the painters Jan and Caesar van Everdingen were taught by Roelandt Savery at Utrecht. Allaert moved in 1645 to Haarlem, where he studied under Pieter de Molijn, and finally settled about 1657 at Amsterdam, where he died in 1675.
The school of landscape painters in Haarlem turned out many young, talented artists who incorporated the tonal qualities of van Goyen. In Utrecht Everdingen would have also met Savery's nephew, the landscape artist and engraver Roelant Roghman, who probably returned with him on his trips to Alkmaar.
In 1644 Everdingen travelled to Norway and Sweden. His visit to Norway was unscheduled, but occurred when his ship, en route to the Baltic Sea, ran into a heavy storm and moored there for shelter. Everdingen took advantage of this mishap by making sketches of the Norwegian landscape, which would have seemed very exotic to his Dutch countrymen. His annotated drawings document visits to the south-east Norwegian coast and to Bohusland and the Göteborg area in western Sweden. These sketches, which he later painted in his studio, became very popular and exhibit a broad and sweeping character that differs but slightly from that found in the early 17th century landscapes of Jan van Goyen and Salomon van Ruisdael. He also produced many very fine etching of Scandinavian scenes which were, and still are, much admired, that capture the combination of pine trees, log huts on stony outcrops and tumbling waterfalls.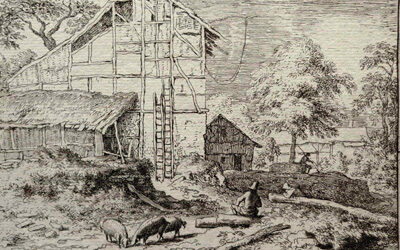 Allaert van Everdingen (1621-1675) - Seated Swineherd in a Farmyard  1636-1675etching - platemark 12.8 x 16.4 cm, paper 13.5 x 16.9 cmUnframed - Price : £100Signed with initials AVE bottom right corner of image. Faint outline of his name written in ink bottom...
read more