Eagidius Sadeler II (1570/75-1629) was a Flemish engraver, print dealer, and painter. Born in Antwerp he was most noted for his reproduction engravings of Renaissance and Mannerist paintings. Sadeler was born into a family of well-known engravers. Jan and Raphaël Sadeler were probably uncles, and Eagidius was Jan's student in 1585. From 1590 to 1597 Sadeler was active in Munich and in Italy (mostly in Rome where he made prints on images by Northern artists working there including Paul Bril and Denys Calvaert). In 1600 he was appointed court engraver to the emperor Rudolph II and his successors and moved to Prague, where he died.
Many of his prints were reproductions of the works of Mannerist painters active in Prague, and others reproduced works by Tintoretto, Titian, Raphael, and Agostino Carracci. He also engraved some remarkable city views of Prague, portraits of notables, and engraved many of the Dürer drawings in the Imperial collection. His early works were mostly religious prints after Northern painters, several in sets. His prints after Spranger, Roelant Savery and other Prague artists were important in disseminating the style of Rudolfine Mannerism across Europe, especially Germany and the Netherlands. He also painted, although no works certainly by him survive.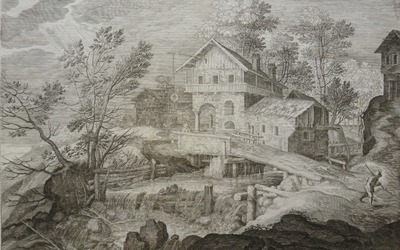 Aegidius Sadeler II  (1570/75-1629) - Inn and Houses near a Bridge  1594-1632etching and engraving on fine laid paper - platemark 16.7 x 21.9 cm / paper 17 x 22.1 cmUnframed - Price : £160After a lost drawing by Roelant Savery (1576–1639) from the series of 5...
read more