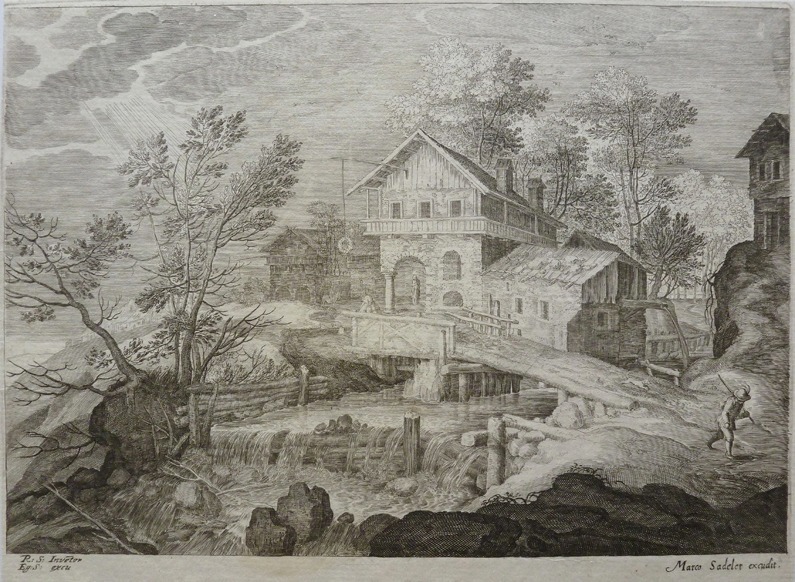 Aegidius Sadeler II  (1570/75-1629) – Inn and Houses near a Bridge  1594-1632
etching and engraving on fine laid paper – platemark 16.7 x 21.9 cm / paper 17 x 22.1 cm
Unframed – Price : £160
After a lost drawing by Roelant Savery (1576–1639) from the series of 5 plates, "Landscapes of Tyrol", published in the second state by Marco Sadeler (fl.1660s).
Lettered below the image borderline: (left) "R.S: Inve[n]tor / Eg. S: excu."; (right) "Marco Sadeler excudit."
State ii (of iii) (before the erasure of the publishing detail, "Marco Sadeler excudit.")
TIB 72 (Part 2 Sup.).7201.230 S2 (Walter L Strauss & Isabelle de Ramaix [Eds.] 1998, "The Illustrated Bartsch", vol. 72, Part 2 [Supplement], p. 27); Hollstein Dutch 226-2 (2) (Hollstein 1980, vol. 21, no. 223); Le Blanc, no. 204–09; Wurzbach, no. 104; Nagler 1835—52, nos. 222–26
Condition: Overall good condition. Crisp impression trimmed close to the platemark in excellent condition (i.e. there are no holes, tears, stains or foxing) but with a light fold mark visible verso.
For information on Aegidius Sadeler II click HERE.