Adriaen Collaert was a Flemish designer and engraver. The estimated year of his birth at Antwerp is between 1555 and 1565. In 1580 he became wijnmeester/wine master of the Guild of St. Luke. The title wijnmeester was reserved for sons of members, and he was the son of Jan Collaert I and Anna van der Heijden. He married Justa Galle, the daughter of the man he worked for, Philip Galle. He also worked for Gerard de Jode (where he made prints after Maerten de Vos), Eduard Hoeswinckel and Hans van Luyck. After having learnt the principles of the art in his own country, he visited Italy for improvement, where he passed some years. On his return to Flanders, he engraved a great number of plates, executed in a neatly finished style.
Collaert was involved in all aspects of the print trade, as printmaker, printer and publisher in Antwerp. He started in publishing from around 1588. From 1593-94 he took on pupils and from 1589 he worked for Plantijn Moretus. His pupils were Jan Boel, Quirin Boel I, Adriaan Boon, Jan Collaert (II), and Abraham van Merlen. He was also an independent print publisher.
Adriaen Collaert was the brother of Jan Collaert II, and he had a son, Jan Baptist Collaert II or Jan Collaert III (1591 – 1627/8), and a grandson who followed in his footsteps as print makers and publishers. He died at Antwerp in 1618.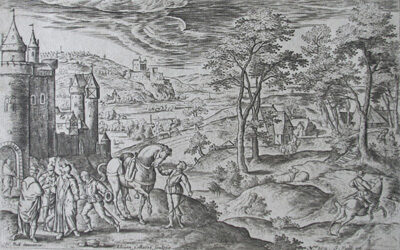 Adriaen Collaert (c1560-1618) - The Return of the Prodigal Son  1525-1563etching - platemark 12.3 x 18.1 cm, paper 12.8 x 18.8 cmUnframed - Price : £70Etching by Adriaen Collaert based on a design by Hans Bol (1534-1593) and published by Gerard Valck. Inscribed...
read more