Abraham Genoels (1640-1723), painter and etcher, was baptised Antwerp. His father was Peeter Genoels. He was apprenticed to Jacob Backereel by the age of 11 but left in 1655 to join Nicolaas Maerten Fierlants who specialized in perspective paintings. In 1659 Genoels went to Paris after a journey through the northern Netherlands. There, with the help of his cousin Laurent Francken, he became an assistant to the French academician Gilbert de Sâve, in whose workshop he painted background landscapes for tapestry cartoons. De Sâve introduced him to Charles Le Brun, who invited him to work at the Gobelins, of which Le Brun was then director. Le Brun also proposed Genoels for membership of the Acadèmie Royale de Peinture, to which he was received on 4 January 1665.
Genoels returned to Flanders in 1669 accompanied on this journey as far as Amiens by the Flemish painters Jan van Huchtenburg and Adriaen Frans Boudewyns. His desire to visit Rome was fulfilled in 1674 when he had earned enough money to finance this undertaking in a comfortable way. He undertook his Grand Tour with a group led by Marselis Liberechts. He returned to Antwerp in 1682 where he became a member of the Guild of St. Luke. He died in Antwerp in 1723. He was in Rome for eight years and is known mainly for his classical landscapes. He made a number of etchings between 1675-1691, published by Frans van der Meulen, which show a distinctly Italian influence with their landscape owing much to the Roman Campagna and including the architectural ruins.  His prints are very well drawn with careful attention to detail. These idyllic landscapes were highly popular and Genoels designs were etched by others, by  Adrian Frans Boudewijns in particular. They typify the Italian style of imagery that countered the local naturalism of those other artists who preferred to depict grittier northern landscape.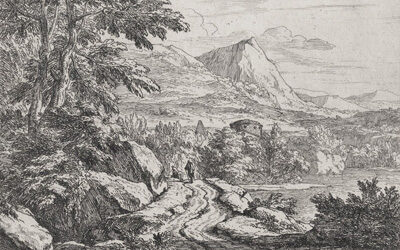 Abraham Genoels (1640-1723) - Landscape with rocky bordered road  c1680etching - platemark 13.1 x 16 cm, paper 18.4 x 23.2 cmUnframed - Price : £150Published by Adam Francois van der Meulen, Rue St Jacques, Paris. Signed 'A. Genoels, fe' in bottom left corner...
read more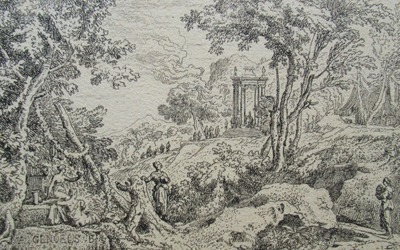 Abraham Genoels (1640-1723) - Springtime  1684etching - platemark 11.2 x 16.2 cm / paper 13 x 18.6 cmUnframed - Price : £130'A Genoels ANTV & A 1684' in bottom left of image Condition: Overall good condition. Good even impression. Faint illegible pencil...
read more